Botswana
Botswana offers an impressive array of incredibly unique safari destinations from the crystal clear pools and meandering channels of the Okavango Delta to the awe-inspiring desert vistas and star-studded skies of the Kalahari Desert.More often than not, the Okavango Delta is Botswana's most popular travel destination, holding the title of the world's largest inland wetland system. Each year, the region's 5,800 square miles of desert are flooded, creating a pristine natural oasis made up of deep lagoons, wetlands, lush palms and grasslands - a haven for a huge variety of African wildlife.To the North-East, the Chobe National Park offers incredible game viewing opportunities and is famous for its massive herds of elephants and other prolific wildlife. Further South, the vast red expanses of the Kalahari Desert offer a stark contrast, creating an entirely new safari experience to enjoy.WIth so many different places to choose from and so many different ways to explore these incredibly diverse ecosystems, Botswana is without doubt one of Africa's most iconic travel destinations.
Our Signature Safaris to Botswana
Browse through our selection of carefully curated Signature Safari Packages, pre-planned by our safari specialists for your ease & convenience and meticulously designed to deliver an unparalleled African safari experience.
Botswana's Signature Safari
From the world's largest inland wetland system to one of the 7 Natural Wonders of the World, our 12-day safari to Botswana will show you Africa in ways you could never have imagined.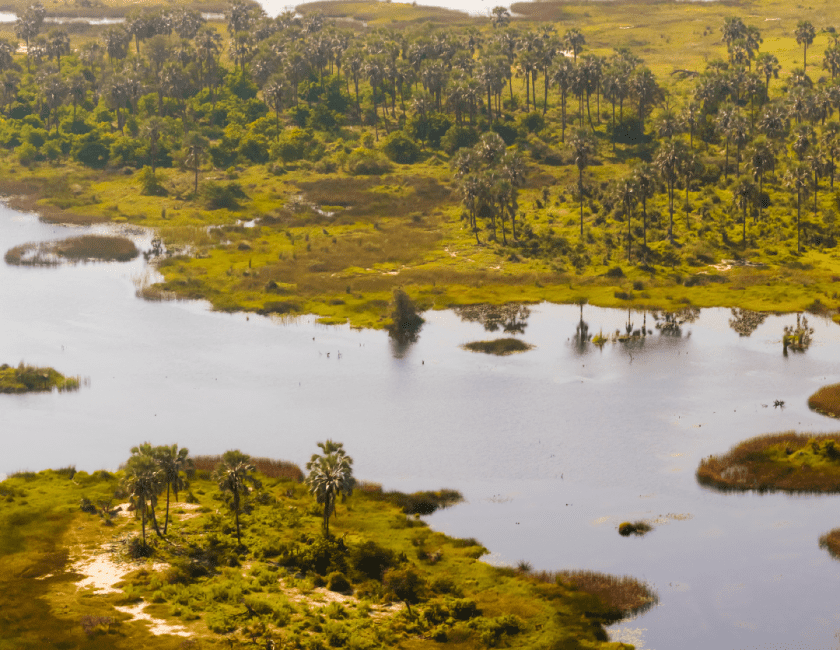 Okavango Delta
The Okavango Delta is a World Heritage Site as it is the largest inland delta in the world. The magnificent Okavango River sprawls out over the dry sands of the Kalahari Desert forming this flourishing waterlogged oasis featuring countless meandering waterways and crystal clear lagoons studded with water lilies, as well as fertile floodplains and reeded islands inhabited with abundant wildlife. Visitors can enjoy a number of wonderful activities such as game viewing, fishing, bird watching or taking an authentic guided Mokoro excursion through this wetland paradise in a traditional dugout canoe. Our favourite lodges are Mombo Camp and Jao Camp.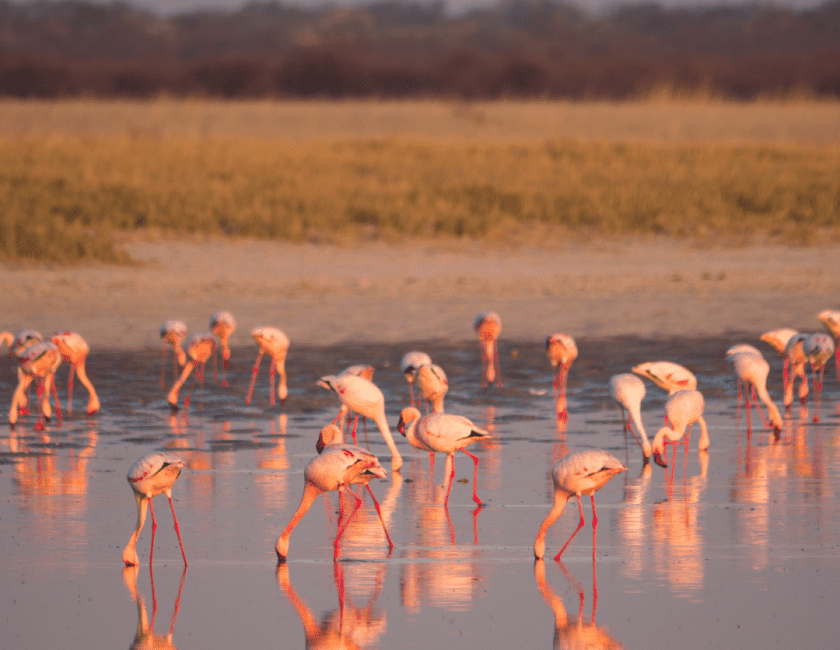 Makgadikgadi Pans National Park
Brimming with natural wonders including the largest tree in Africa, a world famous 5300-year-old Baobab, game viewing is at its best during the wet season when the plains teem with an extraordinary diversity of wildlife. The rains transform the salt pans into a magnificent lake attracting an abundance of wildlife and, most spectacularly, large flocks of gloriously pink flamingos. Popular activities include game drives, bird watching, exploring the salt pans on 4WD or quad bikes, tours of Gweta Village, and fascinating bush walks to historic sites guided by experienced Bushmen trackers. Camp Kalahari is Ranger Buck's favourite camp.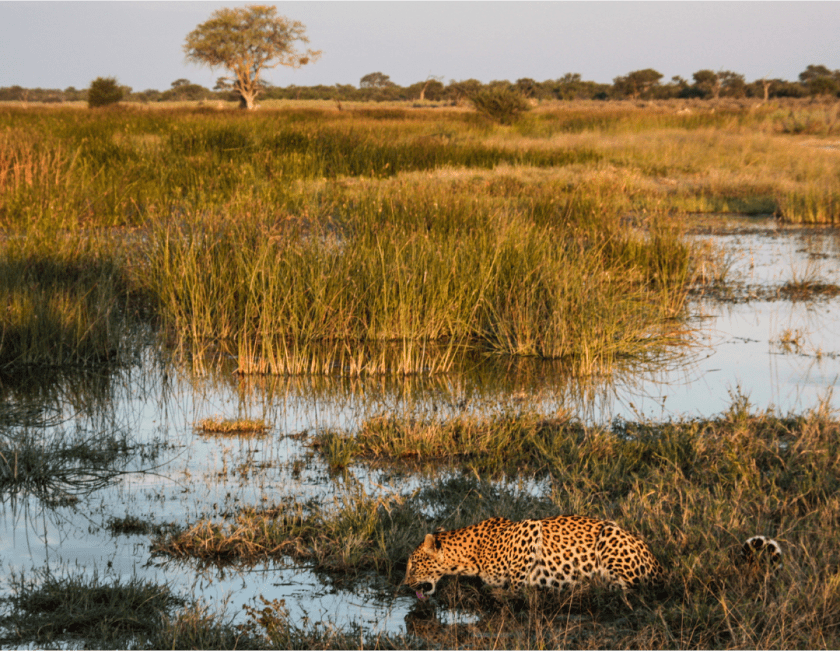 Savuti
This dynamic wilderness is a sweeping expanse of savannah, with several rocky outcrops which guard a relic marsh and the dry channel that was once its lifeline. Visitors to this spectacular area can spot abundant wildlife including: a variety of birds, elephants, antelope, lion prides, black-backed jackal, bat-eared foxes, tsessebe, kudu, hyena, cheetah, Cape buffalo herds and thousands of migrating zebra and wildebeest. Belmond Savuti Elephant Camp is a preferred Ranger Buck partner.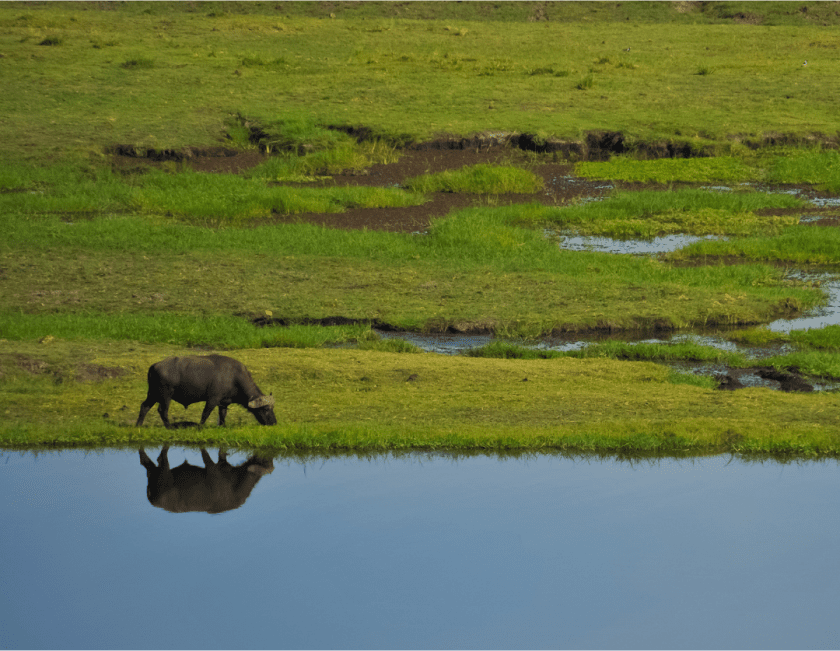 The Chobe National Park
Renowned for its impressive, shifting migratory population of more than 50 000 elephants, Chobe National Park is situated in the far northeast of Botswana, bordered to the north by the mighty Chobe River. The diversity of habitats provides a sanctuary to an astonishing array of African wildlife. In addition to spotting Chobe's great pachyderm herds, you are likely to spot lion, leopard, hyena, wild dog, impala, waterbuck, kudu, zebra wildebeest, giraffe, and warthog. The park is also famous for its wonderful riverboat safaris, making Chobe an essential destination for any avid safari enthusiast. Our preferred lodge being the Ghoha Hills Savuti.
Curate Your Own Personalised Travel Itinerary
We specialise in creating completely Personalised, tailored travel itineraries based on your personal needs and expectations. Simply click on the button below to chat to one of our safari specialists and lets start planning your dream African safari.