Namibia
Located on Southern Africa's West Coast and characterized by its vast expanses, endless desert vistas, titanic sand dunes and unforgiving coastline, Namibia is another one of Africa's unique and truly iconic safari destinations. Boasting the second lowest population density on the globe with fewer than three million people spread over a landmass twice the size of Germany, this land lost in time the epitome of uninterrupted isolation & escape. The magnificent rolling red sand dunes of Sussusvlei are home to an amazing variety of desert-apted wildlife and breathtaking natural scenery while Etosha National offers a more traditional African safari experience with spectacular game viewing opportunities. Namibia's beautifully unique natural landscapes and breathtaking wildlife is complimented by some of the most exclusive and luxurious lodges on the African continent. A trip to Namibia, combined with visits to surrounding South Africa or Botswana will add a unique twist to your African experience and deliver a truly unique African safari.
Our Signature Safaris to Namibia
Browse through our selection of carefully curated Signature Safari Packages, pre-planned by our safari specialists for your ease & convenience and meticulously designed to deliver an unparalleled African safari experience.
Namibia's Signature Safari
A comprehensive and utterly luxurious safari to a world unlike any other. Prepare to experience Namibia in the most extraordinary ways imaginable.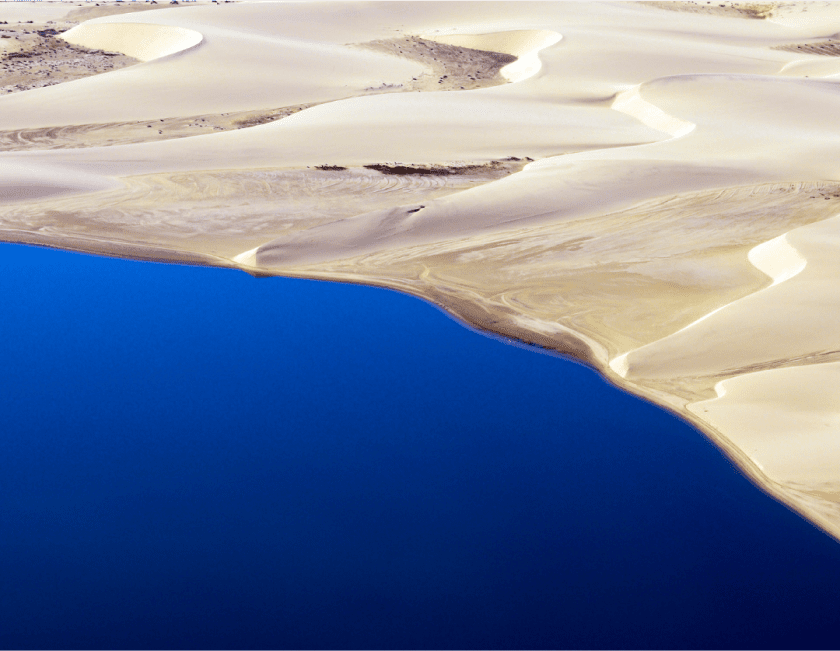 Skeleton Coast
It seems more like a mirage than real life — lions stalking seals along a dazzling white sand beach that wouldn't look out of place in the Caribbean.The massive sand dunes towering behind the shore and the fact there's nothing man-made — other than shipwrecks — for a hundred miles in every direction indicate that there's something very different about this section of Namibia's vast coastline. That's the allure of the Skeleton Coast, a place that blows away preconceived notions about what Africa should be. Where the unexpected is a daily occurrence, and civilization is practically non-existent.It's probably as close as our planet gets to the mythical "end of the Earth."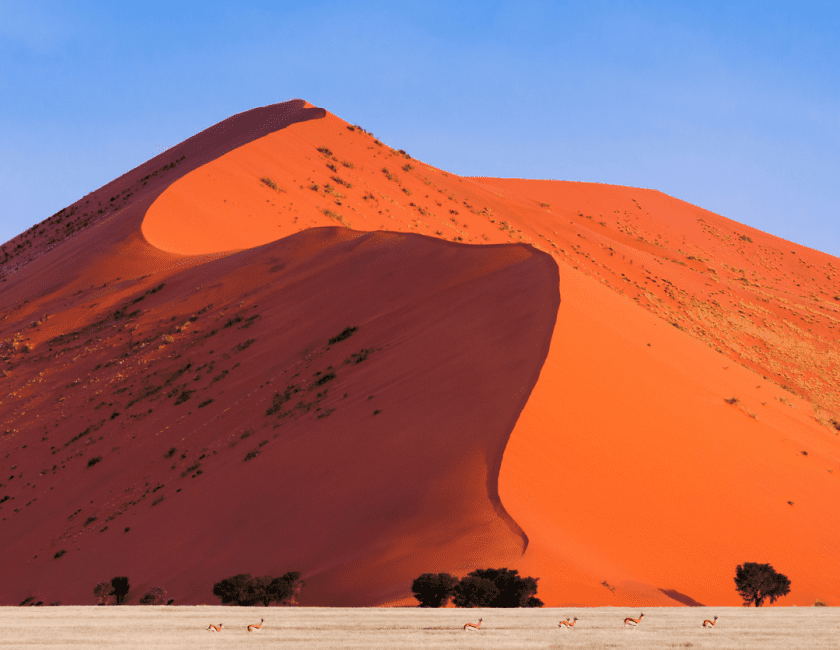 Sossusvlei
Sossusvlei is where you will find the iconic red sand dunes of the Namib. The clear blue skies contrast with the giant red dunes to make this one of the most scenic natural wonders of Africa and a photographer's heaven. These iconic dunes come alive in morning and evening light and draw photography enthusiasts from around the globe. Sossusvlei is home to a variety of desert wildlife including oryx, springbok, ostrich and a variety of reptiles. Scenic flights and hot air ballooning are on offer, followed by a once-in-a-lifetime champagne breakfast amidst these majestic dunes. Our preferred lodge here is the andBeyond Desert Lodge.
Etosha National Park
The Etosha National Park offers a premier game viewing experience. The park's diverse vegetation ranges from dense bush to open plains attracting a variety of wildlife. Located in the heart of the park is the Etosha Pan – a shallow depression that covers an area of 5000 square kilometres. Dry and shimmering for most of the year, the pans fill up with water after seasonal rains, making it the perfect habitat for wildlife.
Damaraland
Staying at our preferred lodge, Desert Rhino Camp, Damaraland is an exceptionally scenic landscape featuring open plains, ancient valleys and spectacular rock formations. Visitors can take in the dramatic vistas, catch a glimpse of the rare desert-adapted elephant, and enjoy spectacular stargazing in crystal-clear night skies.
Curate Your Own Personalised Travel Itinerary
We specialise in creating completely Personalised, tailored travel itineraries based on your personal needs and expectations. Simply click on the button below to chat to one of our safari specialists and lets start planning your dream African safari.